Let's Do This — Back to School 2020
August 21, 2020
Today is likely the last Friday before many of us start getting ready to go back to school. To say the anxiety level is running high is an understatement. Back to school plans have been upended by new guidance so many times, most of you have stopped counting the versions. Many folks are concerned with how to adequately accommodate students and adults both on campus and remotely. Those who have school age children are trying to figure out how they can be in two places at once — working and educating their children in a virtual learning environment. Onboarding new members of the community (students, parents, faculty, staff) is more challenging, and let's not even get started on sports, lunch, and recess. Suffice it to say, Back to School 2020 is going to be messy, and nobody likes messy!
One way to deal with the mess is to manage stress. William J Koehler Ph.D., LCSW in Ready or Not, Here We Go Back to School, shares that faculty, parents, and students all have concerns about returning to in-person learning in the midst of the COVID pandemic. He offers five suggestions to "navigate through these continuously shifting circumstances, overwhelming feelings, and contradicting demands."
Determine your priorities
Identify distorted thoughts
Acknowledge your feelings
Engage all of your resources and supports
Respond rather than react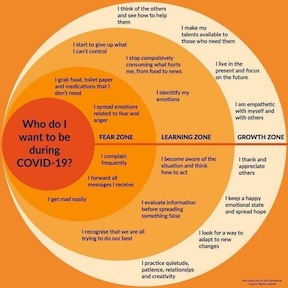 Another way to deal with the mess is to decide "Who do I want to be during COVID 19?" This chart has been circulating through social media, and while I am not sure of the origin, it is worthy of consideration.
Since March, Business Officers and their teams haven't had much time to live in the Fear Zone, moving right into the Learning Zone, and are now firmly situated in the Growth Zone. If the e-lists and Monday Morning Coffee Breaks are any indication of just how far this group has traveled outside their comfort zones, PAISBOA schools and universities are in good hands.
Nothing about COVID 19 has been easy! Any semblance of order, routines, and schedules — all the ways to create a work/life balance — have been replaced with, well, let's just call it messiness. Rather than look at COVID as the cause of loss, why not see it as an opportunity for growth and creativity. Remember, overcoming adversity brings tremendous strength.
Here are some of the 13 Mental Tricks to Get You Outside Your Comfort Zone:
Recognize your reactive thoughts and tack a new positive thought on to them.
Look up and around you.
Revisit your greatest accomplishments
Find a compelling reason
Make it a habit to try something new
Reframe what it means to be comfortable
Take one small step
Compare the best and worst possible outcomes
Act as if you are comfortable and just do it
So, let's do this back to school thing! For months, you have prepared, pivoted, and planned – and likely you will prepare, pivot, and plan some more before this academic year even starts. You've got this! As always, PAISBOA and its member independent schools and universities are right there with you on the Monday Morning Coffee Breaks and e-lists. You have a network of 177 Business Office teams in three states that are just an email or phone call away.
For the next month, we are going to lighten the program schedule so that you can focus your full attention on your community and won't feel like you are missing anything important. We will continue our Monday Morning Coffee Breaks, and will schedule other affinity group meetings on request. You will hear from us every Friday with a Friday Flyer or Members Update. And we will schedule a webinar if something urgent arises outside of our regular Monday meeting.
On behalf of Ron, Rachel, and Sara, we wish you all a healthy, safe, and productive 2020-2021 academic year.
Take Advantage of the Power of the Flock...
Share this post: